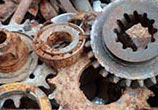 We recycle all types of scrap steel and iron including appliances, fencing, car parts, sheet, etc. We don't take entire cars, but can take sizable chunks of steel depending on the details such as size, form, dimensions, etc.
Steel is one of the more dense metals making it a lot heavier than most metals so be careful when you're moving it. That's why we have forklifts!
Steel we recycle
Cable and Wire
Cast Iron
Chain Link Fencing
Metal Banding
Rebar
Sheet Metal
Tin
Old bicycles
Appliances. We don't accept refrigerators, freezers, and air conditioners.
All Light Shred
Industrial Metals
Heavy Melt Steel
Not sure if we buy it? Give us a call at 253-536-2260.