High temps and specialty metals? We buy those too.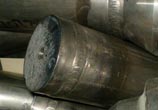 There are tons of high temp and specialty metals that many people don't know how to clasify. We'll test your metals and help you figure it out. We love a challenge. We can't always be exact with a specific alloy, but we can tell you what you're holding and give you a fair price. We've seen all sorts of unique metals and alloys come through our doors.

High temps and specialty metals we buy
Monel
Inconel
Titanium
Copper Nickel alloys such as 70/30 and other mixtures
Lithographic sheets
Computer boards
Silver cadmium scrap
Silver electrical contacts
Platinum wire scrap
Platinum bearing scrap
And more.
Not sure if we buy it? Give us a call at 253-536-2260.