Tacoma's best location to recycle stainless steel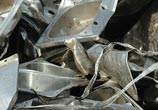 We recycle all types of stainless steel and other alloys containing nickel, chromium, and more. Pricing depends on the type of stainless and the alloy mix, but leave that to us. Most stainless you come in contact with will be your garden variety grade which fetches a good price. We'll take a look and let you know the grade and give you a fair price.
Stainless steel alloys we buy
Stainless steel
Low-nickel stainless steel
High-nickel alloys
Stainless sinks and appliances (no refrigerators, freezers, or air conditioners please)
Not sure if we buy it? Give us a call at 253-536-2260.